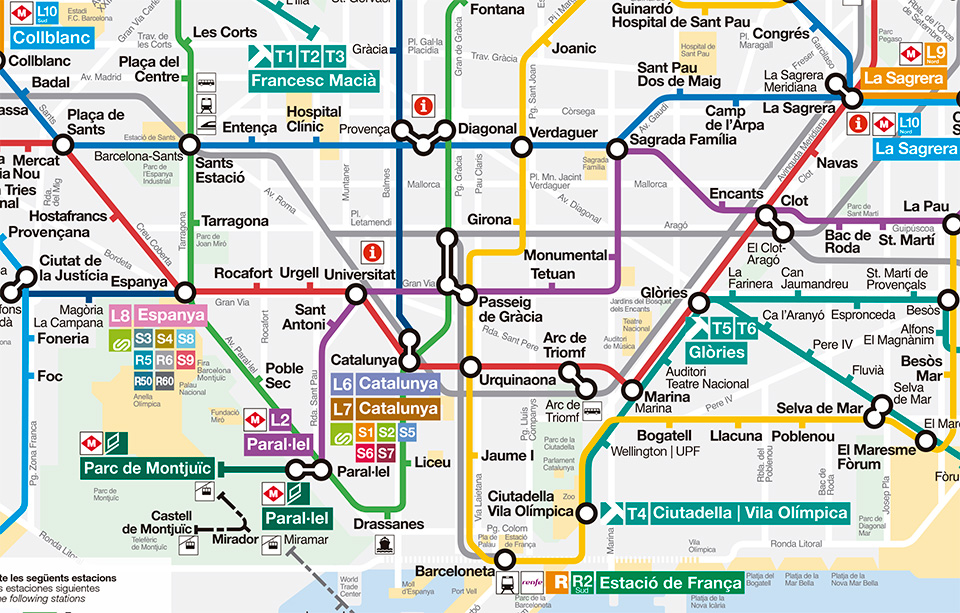 The Barcelona Metro, part of the mass transit public transport system of Barcelona, Catalonia, Spain is an extensive network of electrified railways that run underground in central Barcelona and above ground into the city's suburbs. Including the two lines which are currently under construction (L9 and L10), the network is made up of 11 lines with 209 stations, with a total route length of 157.51 km (97.87 mi). Excluding L9 and L10, the current lines make up a total track length of 108 km (67.11 mi) and 9 lines. There are a few stations that are permanently closed. Since 1997 the network has been part of Autoritat del Transport Metropolitā (ATM). In 2002 it was announced by ATM two additional lines were going to be built in the near future, L12 and L13.
Layout

The metro network proper, operated by TMB, consists of six lines, numbered L1 to L5 and L11, and distinguished on network maps by different colours. FGC lines are numbered L6, L7 and L8. None of the Barcelona Metro lines have a name of their own but they're generally referred to by their number and the names of their termini. They run as follows:
TMB lines
Line 1
Red
1926
Hospital de Bellvitge - Fondo
Line 2
Purple
1995
Paralˇlel - Pep Ventura
Line 3
Green
1924
Zona Universitāria - Trinitat Nova
Line 4
Yellow
1973
Trinitat Nova - La Pau
Line 5
Blue
1959
Cornellā Centre - Horta
Line 11
Light Green
2003
Trinitat Nova - Can Cuiās
FGC lines
The three metro-like commuter lines operated by the FGC are numbered L6 to L8:
Line 6
Dark Blue
1863
Pl. Catalunya - Reina Elisenda
Line 7
Brown
1954
Pl. Catalunya - Av. Tibidabo
Line 8
Pink
1912
Pl. Espanya - Molí Nou-Ciutat Cooperativa
Other
The Funicular de Montjuīc, a funicular railway, is fare-integrated and listed on maps as part of the metro network, being connected directly to the metro at Paralˇlel station.
Funicular de Montjuīc
Dark Green
1929
Paralˇlel - Parc de Montjuīc
In addition to those, Renfe and FGC trains and the increasingly important Trambaix and Trambesōs routes and stations are displayed on most recent maps, including the info maps in the metro stations, all in a single variety of dark green.
Lines 9 and 10
Construction work is taking place currently on L9/L10, which will run from Badalona and Santa Coloma to the Zona Franca district and El Prat International Airport. The lines, which will share a central section between Bon Pastor and Torrassa (L1), will be the longest underground metro line in Europe, at 26.6 miles (42.8 km), and will have 52 stations. The project was approved in 2000 but has been challenged by some technical difficulties and some of their sections are pending further geological analysis, which of 2007 is the reason for the delay in the construction of some of the mentioned sections, which won't be ready until 2012 or even as late as 2013.
Other lines
Lines L12 and L13 are two planned additions to the network.
L12 / R3
A version of the project for this line, which has been recently given the name of R3, would connect some of the urban area municipalities in Baix Llobregat, such as Esplugues de Llobregat, Sant Joan Despí or Sant Just Desvern, more efficiently than the original idea, besides bringing them closer to the capital by optimising connections with the bus, tram and train systems. It's due to be completed in 2015 with a budget of close to 870 million euro.
L13
This line would become, along with L11, one of the two underground light-rail lines fully integrated into the network. As is the case with L11, it's intended to provide access to a hilly area of the metropolitan area: the hospital in Can Ruti in Badalona. The original project includes only three stations (which doesn't mean there won't be further additions): Morera, Canyet and Can Ruti.
Cards and pricing
In addition to the one way ticket (1.35€ as of June 2009 there are a number of other tickets and cards. All of the Autoritat del Transport Metropolitā (ATM) transport cards are valid and can be used in the Barcelona Metro. These are:
T-10
T-50/30 - 50 days made in 30 consecutive days from the first use
T-Familiar (70/30)
T-Mes
T-Trimestre
T-Dia
T-Jove
All the metro stations are on fare zone 1. Tariffs (as of 2009), including all zones, are the following:
Fare zone 1
7,70
112
31'50
47,90
5,80
131,50
45,50
35,00
Fare zone 2
15,40
162
52,80
69,10
9,15
191,00
64,00
Fare zone 3
21,00
217
74,15
93,35
11,55
258,00
87,75
Fare zone 4
27,00
261
92,25>
111,00
13,00
307,00
107,50
Fare zone 5
31,00
297
109,00
127,50
14,75
350,00
124,00
Fare zone 6
32'95
308
121,50
136,00
16,50
362,50
133,50
Stations
As of mid 2007, there are currently 150 operational stations in the Barcelona Metro, served by the 9 lines in current use, which will increase to 209 when lines L9 and L10 are finally completed. The average distance between stations is 650 metres.
An overwhelming majority of stations in the network lack related buildings or structures aboveground, as opposed to other subway networks as the London Underground, mostly consisting of an access with stairs, escalators and sometimes an elevator. The official TMB metro indicator, a red rhombus with a M inside, isn't still used by FGC lines, which use their company logo and a different rhombus-shaped logo inside stations. Below ground their decoration is remarkably sober, with the exception of a few stations.
Disused stations
A number of stations in the network have been closed, were never inaugurated, or a have been moved to a nearby location.
The metro network in 2012
L1
Hospital de Bellvitge - Badalona Centre
1926
20,72
30
L2
Fira 2 - Morera
1995
13,53
23
L3
Zona Universitāria - Trinitat Nova
1924
19,22
26
L4
Trinitat Nova - Sagrera-Meridiana
1926
18,91
25
L5
Cornellā Centre - Vall d'Hebron
1959
19,16
27
L6
Pįa Catalunya - Reina Elisenda
1929
5,38
9
L7
Pįa Catalunya - Av. Tibidabo
1954
4,63
7
L8
Pįa Espanya - Molí Nou-Ciutat Cooperativa
1912
11,26
11
L9
Aeroport Terminal Sud - Can Zam
2009
42,6
51
L10
Zona Franca - Gorg
2010
42,6
51
L11
Trinitat Nova - Can Cuiās
2003
2,1
5
Total
157,51
209
Transportation in the Metropolitan Area of Barcelona
The Barcelona Metro is part of a larger transportation network, regulated and fare-integrated by Autoritat del Transport Metropolitā. Among these services, there are two large systems which operate both inside and outside the city limits of Barcelona: the commuter train lines operated by Renfe, amalgamated in the Rodalies Barcelona, or Ferrocarrils de la Generalitat de Catalunya lines which start in the metro lines the company operates (L6, L7 and L8 and which become a fully-fledged railway system which serves most of the metropolitan area: list of FGC lines. FGC is developing Sabadell Metro and Terrassa Metro as subway extensions of its network in the large cities of Sabadell and Terrassa respectively.