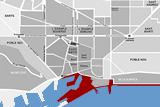 Barceloneta or Little Barcelona was built after King Felipe V ordered the construction of a new fortress (La Ciutadella, nowadays a park) in order to control and punish the city of Barcelona, that fought against him during the war of Spanish Succession. The fortress was planned very close to the city so that a tenth of it was demolished, and the people who lived in this part had no compensation and as a bigger punishment were obliged to demolish their own houses.
The people from the demolished part of Barcelona had to move, so a new quarter was planned by the French military. Therefore, the streets are straight and with a square shape. There are still some houses from this period, easy to recognize because they are much lower than the others and have a simple neoclassical decoration.
Historically a fisherman's quarter, Barceloneta was traditionally a poor quarter, with dark and narrow streets, but since the 1992 Olympics significant gentrification has taken place. Most noticeably along the seafront. There are now delis serving upscale foodstuffs and high rise office buildings going up.
You can arrive either walking from the city center (15 minutes in a nice walk around the harbor from La Rambla) or by subway (L4 yellow line stopping at Barceloneta).
L'Aquarium
The second biggest aquarium in Europe. Watch thousands of fishes, penguins and sharks in this interactive sea-life museum. Unlike Genoese Aquarium it has a long glass "tube", where you can walk watching sharks and other fish swimming around. Located at the Port Vell leisure center, next to the IMAX cinema. Entrance ticket - €16.
Parc de la Ciutadella
This park is Barcelona's most central park, and includes a zoo, a lake and several museums. In fact, the park is so large, 74 acres, that the Catalan Parliament can be found in the center of the park. It's a great place to enjoy games, sports or to spend a leisurely afternoon.
It was built at the final part of the XIX century in the place that formerly occupied the fortress (ciutadella) built after the defeat of 1714. This fortress was hated by the citizens, and when the middle age walls were demolished, so was most of the fortress. Some buildings where conserved, as such as the church, and the gunpowder magazine. The new park was used as the place to hold the 1888 international expo, and some of the older modernist buildings are there, such as the Zoology museum, the greenhouse and, following the avenue Passeig de Sant Joan (towards the mountain), the Arc del Triomf, a modernist Arc de Triomphe.
Olympic Port
It has a large number of restaurants, bars and other establishments which have made Barcelona's nightlife bustling. In this wide offer you can find also the Barcelona Casino.
Zoo-Barcelona
It is in Parc de la Ciudadella. Prior to his death, this zoo was famous for its albino gorilla "Snowflake". Today this zoo still has many other features including a science museum inside the zoo. Entry fee € 16.
Museu d'Hisṭria de Catalunya (Catalonia's Museum of History)
In Catalan and English. A must in order to understand the troubled (and sad) history of the Catalans. Free on the first Sunday each month (but they close at 14:30)
Museum of Natural History
This museum in the Parc del Forum (in the building made by Herzog & de Meuron) is especially recommended for children. Most interesting is the rain forest project, in which you can observe a living forest from various angles (even from below!).
Beach
Just 10-15 minutes from Barceloneta, or a few minutes from Vila Olimpica/Ciutadela. The beach stretches from the tip of Barceloneta in Port Vell and far away, passing Vila Olimpica and further. On warm summer days it will be crammed with people, and it might be a good idea to find a spot further away or go to a beach outside of Barcelona.
There's nothing better than covering your toes with sand and lying upwards in the sun, and there's no better place to do this than on Barceloneta's famed beauty. Sit back, relax and enjoy.