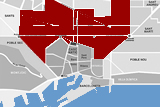 The Eixample is the quarter designed during the middle of the 19th century by Ildefons Cerdà, expanding the medieval city of Barcelona into space left empty for defense outside the citywalls. It's an enormous field of rectangular blocks in an continuously repeating layout, with the constant thread of getting lost (at least for those used to european cities. Eixample contains most of the modernist buildings, including La Pedrera, Casa Batlló and La Sagrada Família. A very interesting example for planned urban development and subsequent re-planing and restructuring.
Sagrada Família
Designed by renowned architect Antonio Gaudi, this remarkable landmark remains Barcelona's most famous unfinished church, having been started in 1882. It is one of Gaudi's most impressive works and can be described as warped Gothic. The rippling contours of the stone facade make it look as though Sagrada Familia is melting in the sun, while the towers are topped with brightly-colored mosaics which look like bowls of fruit. Definitely worth a visit.
Casa Batllo
The Casa Batllo is a building restored by Antoni Gaudí and Josep Maria Jujol, built in the year 1877 and remodelled in the years 1905–1907; located at 43, Passeig de Gràcia, part of the Illa de la Discòrdia in the Eixample district of Barcelona, Catalonia. The local name for the building is Casa dels ossos (House of Bones), and indeed it does have a visceral, skeletal organic quality. It was originally designed for a middle-class family and situated in a prosperous district of Barcelona.
Casa Amatller
The Casa Amatller is a building in the Modernisme style in Barcelona, designed by Josep Puig i Cadafalch. Along with Casa Batlló and Casa Lleó-Morera, it makes up the three most important buildings in Barcelona's famous Illa de la Discòrdia ("Block of Discord"), noted for its unique modernist buildings. The building was originally designed as a residence for chocolatier Antoni Amatller and was constructed between 1898 and 1900.
Casa Lleó-Morera
The Casa Lleó Morera is a building designed by noted modernisme architect Lluís Domènech i Montaner, located at Passeig de Gràcia 35 in the Eixample district of Barcelona. The building is located on the corner of Carrer del Consell de Cent, and is one of the three important buildings of Barcelona's Illa de la Discòrdia ("Block of Discord"). The building was originally constructed in 1864, and was renovated beginning in 1902.
La Pedrera
Casa Milà or La Pedrera, Passeig de Gracia 92, Also known as Casa Mila. Another one of Gaudi's masterpieces, there is not one straight edge on the exterior and the structure is one of Gaudi's most eccentric and enticing architectural creations. Tours of the interior and the incredible roof structures are available. Great views of the tall buildings (especially La Sagrada Familia) from the roof.
Hospital de Sant Pau (Saint Paul's Hospital)

Working hospital which is at the same time an architectural masterpiece open for visitors. Although some buildings are being renovated and wards are being moved to a new building of Nou Hospital, it still does not affect the experience. One of "small hidden features" is a network of underground passages where small carriages can be seen, you can get there near WCs on a central square, between Banc de Sang and Quiròfans.
Fundació Antoni Tàpies
C/d'Aragó, 255. Created in 1984 by the artist Antoni Tàpies to promote the study and knowledge of modern and contemporary art.
Buy tickets for the Casa Milà (La Pedrera) in Barcelona. Skip the line!